BJP cutting PDP and Mehbooba to size
Javaid Ahmed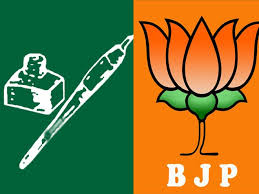 Srinagar: PDP has been rattled by the violation of `coalition dharma' by BJP in the recently held council elections in J&K State. Although BJP General Secretary incharge J&K Affairs assured Mehbooba Mufti that there would be complete support to each other in these elections, but PDP lost Jammu seat because of BJP ditching.
Informed sources said that BJP through its Central Minister and Shia leader Mukhtar Abbas Naqvi managed to get the support of independent MLA from Zanskar Aga Bakir and he has finally told media that he was ready to join BJP camp if his demands about the development of Zanskar were agreed by them. Earlier, Aga Bakir supported PDP and was given MoS status by Mehbooba Government. Soon after his ditching to the PDP camp, Mehbooba Government distanced itself from him and snatched his status.
Informed sources told Voice of Valley that BJP was already working to cut PDP to size in Kashmir and the `pouching' of Aga Bakir was the start of the process. Sources said that BJP leadership was in touch with a rebel group of PDP and were keen that PDP should be fragmented. Although Mehbooba Mufti is trying her best to keep her flock together, but the BJP was busy in taking away a group of lawmakers from her party to provide that group support to their `dark horse' in Kashmir politics.
In the coming days, sources said that Central leadership of BJP was trying to first fragment PDP and then provide that support to their `dark horse' to finally start their process of talks and reconciliation with people of J&K. Sources further said that Mehbooba camp has already got some inputs about the BJP pouching on its some members and lawmakers and was trying to foil the designs of New Delhi to divide her party.