Sheena Club wins LOC cricket cup in Kargil.
 SAJJAD HUSSAIN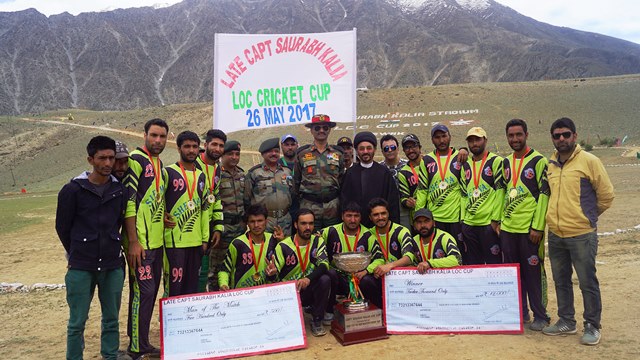 Kargil , May 26, 2017.
Beating Star Galaxy Kaksar by four wickets wickets, Sheeena Kings' Eleven Budgam clinched the LOC Cricket Cup in the memory of Late Capt. Saurabh Kalia Memorial Cricket Tournament played at Shah Thatha Khan Cricket Stadium, Kaksar..
Meanwhile 32 teams of Shingo zone participated in this knock-out tournament which was organized by Indian Army in association with a local youth club of kaksar .
In the final and valedictory function, GOC 8 Mountain Division Major General CP Karappa was the chief guest, Commander 121 Infantry Brigade, Brigadier T K Chopra Guest of honour while as Executive Councillor LAHDC Kargil Aga Syed Hassan Arman was special guest.
Meanwhile, GOC 8 Mountain Division Major General CP Karappa appreciated the role of the people of the village and appreciated the efforts made by local youths to run this entire tournament. Hailing the sportsmanship among the youths he also suggested having planning and full-fledged preparation during the match.
Its pertinent to mention here that Captain Saurabh Kalia was an officer of the Indian Army who was killed during the Kargil War while being held as a prisoner of war by the Pakistan Army . He along with five other soldiers of his patrolling team was captured alive and kept in captivity in Karksar village near LOC where they were tortured, then killed.
Since 2003 locals of this area organise the late captain Saurabh Kalia Memorial LOC Cricicket tournament with support of Indian Army.