Mehbooba advocates opening Kargil Skardu road during two days Kargil Visit
Kargil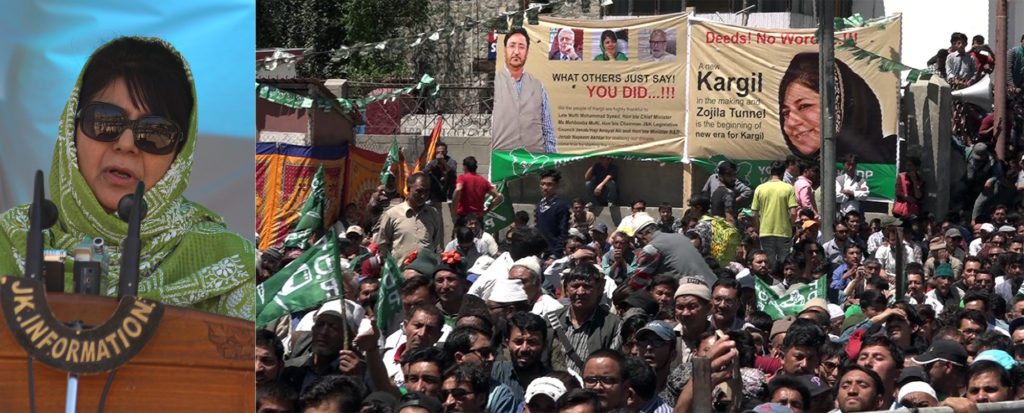 Appriciating the recent statement of Pprime Minister Narendra Modi  about Kahsmir , Chief Minister of the state Mehbooba Mufti while addressing a mammoth PDP gathering in Kargil, stressed upon the fact that Kargil is a symbol of peace in the State and promised to open the cross border routes and also to strengthen Tourism and developmental activities in Kargil.
While her arrival in the morning at Kargil airpot  J&K chairman Legislative Council Haji Anayat Ali , MLA Kargil Asgar karbalai , MLA Zanaskar Aga Syed Baqir Rezvi , IKMT,ISK and various other organisational representatives welcomed her.
Mehbooba mufti visited Kagil for the first time since the establishment of the alliance. She was accompanying with Minister for power Naeem Akhter, Minister for education Syed Altaf bukhari .
While talking about the present socio-political scenario of the state Mehbooba said that coalition with BJP was to bring peace process in Jammu and Kashmir. Giving her remarks about the Speech of Prime Minister Narendra Modi during Independence Day, she said that, she sees the reflection of Vajpayee in Modi.
"As the Prime Minister talked about to rethink about Kashmir and to hug the people of Kashmir, we hope that Modi jee will come with a sound policy about Kashmir and will keep his promise. After the end of Kargil war, then Prime Minister Atal Bihari Vajpayee initiated a peace process by doing cease-fire with Pakistan after 1999 Kargil war, but unrest still prevails on border areas in Jammu and Kashmir. We hope that the present Prime Minister will walk on the same path and initiate the phase of peace process between the two countries and in Kashmir".
While lauding the patriotism of the people of Kargil and the environment of Peace and tranquillity in Kargil, she said that Kashmir is dearth of such sort of peace. "I witnessed school children welcoming us with a kind gesture and utter happiness, our children in Kashmir are lacking this sense of happiness due to the conflict and the unrest, the region can be considered as hub of cultural and religious pluralism and also a centre of peace in the state". She said.
 Mehbooba Mufti talking about the opening of Cross LoC routes said that opening the cross LOC routes can initiate a process of trade in the region and Jammu Kashmir can further reclaim its status of Gateway to the Central Asia. "Opening strategic routes are in our agenda of alliance and we will do our best efforts to open strategic routes like Kargil-SKardu and Turtuk-Khaplu road so that the trade and peace process will begin here". She said.
Mehbooba Further added that Late Mufti Mohamad sayed had a soft corner for the people of Kargil and promised to boost the developmental and tourism activities in Kargil and in this process mega projects like construction of Zojila Tunnel and Kargil Zanksar highway are already in consideration.
On this occasion Chairman legislative council Haji Anayat Ali, Deputy Chief Minister Nirmal Singh, Minister of Education Syed Altaf Bukhari, Minister of Works and development Naem Akhtar also addressed to the crowd and gave their speech.
Haji Anayat Ali while addressing to the crowd said that the progress that Kargil achieved in two and half years of the coalition is remarkable and lambasted the previous Governments for their biased behaviour, he said that they failed to developmental activities in Kargil for more than five decades.
Deputy Chief Minister Nirmal Singh said that the coalition would bring a new phase of development in Kargil. "I applaud the patriotism and sacrifice of the people of Kargil, the way have defeated the nefarious designs of anti-national think tanks I appreciate it and I salute the harmony and pluralism in which Kargil people live. We will initiate 10 developmental projects in the future and it is in our consideration". Nirmal Singh said.
Minister of Works and development Naeem Akhtar briefed said that the tendering process has been completed and soon in this year, the construction of tunnel on zojila will start from five different places and a mega project of 4200 Crore has been allocated for connecting two lane Kargil-Zanskar highway.
—