Martyrdom Anniversary of Imam Ali observed in Kargil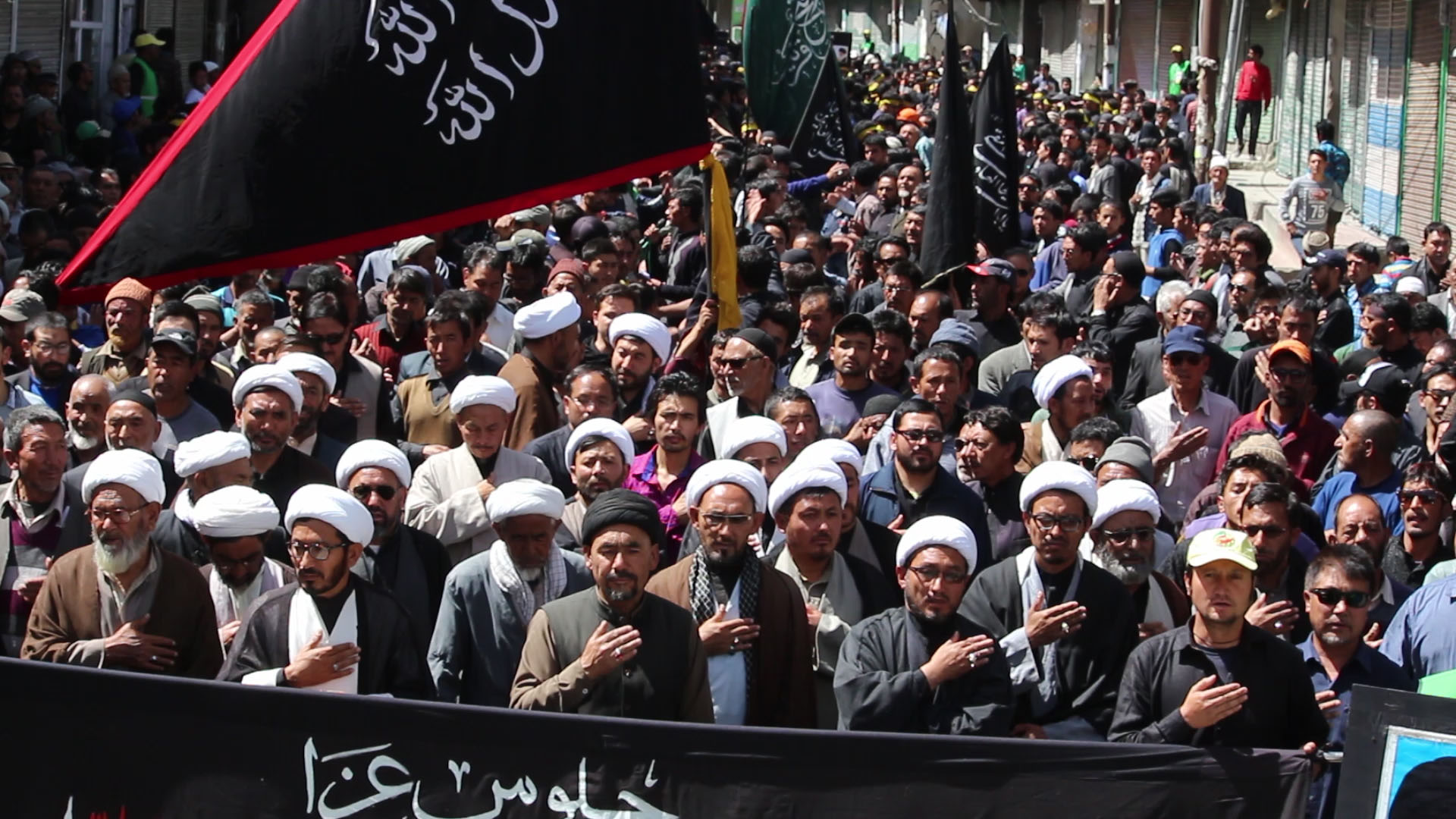 SAJJAD HUSSAIN
Kargil: Martyrdom Anniversary of Hazrat Ali (RA) was observed with religious fervor and zeal in Kargil district of Ladakh region of Jammu and Kashmir.
On this occasion Thousands took out mourning processions in Kargil under the banner of Anjuman e Jamiat e Ulema Isna Ashariya and Imam Khomeini Memorial Trust. These processions were started from Jamia Masjid and culminated at Hussaini Park and Islamia School Kargil premises.  The mourners were beating their chests and reciting lamentation remembering the martyrdom of Imam Ali a.s.
Speaking on the occasion at Islamia School Kargil president Shiekh Nazirul Mehdi Mohammadi Said, "The world should follow the teachings and administrative skills of Hazrat Imam Ali for making this world a peaceful and harmonious place for humanity".
He further told that there is war and terror in all over the world and people in the world are suffering a lot from terrorism, which is idolized by Daesh (ISIS) and other terrorist groups.
Describing the illegal Detention of Hujjatul Islam Shiekh Issa Qassimi Prominent Shia Cleric of Bahrain by Bharanian Government Condemnable Shiekh Nazir told that the Al Khalifa Regime and its Allies are acting inhumanely with the minorities which is an act human rights violation on the minorities.
At Hussain park Speaking to the gathering Chairman IKMT Shiekh Hussain Lutfi said the message of Imam Ali a.s was loud and clear and that was to support the oppressed and oppose the oppressor.
He expressed his solidarity with the people of Yemen, Bahrain and Syria. Lutfi also condemned the imposition of news sanction on Iran.
He said , "people of Kashmir always sides with the oppressed people of world and condemned any kind of oppression".
Speaking about Kashmir he said , " its very unfortunate that the situation in valley remained same and we again appeal to the government to state talks for peace with all stakeholders in Kashmir ".
Earlier special arrangements for special prayers and Aamal-e-Shab-e-Qadir were organized in the premises of Islamia School Kargil and Jamia Masjid Kaergil during which thousands of people offer prayers and concluded at dawn with Sehri.
Special Prayers for peace and communal Harmony in the state, Country and in the whole world were made at the end.
In Suru , Sankoo , Chickten , Drass , Wakha ,T Suru and TSG block procession were taken out on the martyr anniversary of Imam Ali a.s .
Its pertinent to mention here that Imam Ali (as),cousin,son-in-law, successor of Prophet Muhammad (sa) and first holy Imam of the Ahlul-Bayt (as) was cowardly struck with a poisoned sword by the accursed Abdul-Rahman Ibn Muljam (la) on the 19th day of ramadan the year 40 AH,while in the position of prostration praying the fajr prayer in the Masjid al-Kufa,in Kufa,Iraq.Imam Ali (as) eventually passed away on the 21st of the holy month of ramadan.
​