Protests continue across Kashmir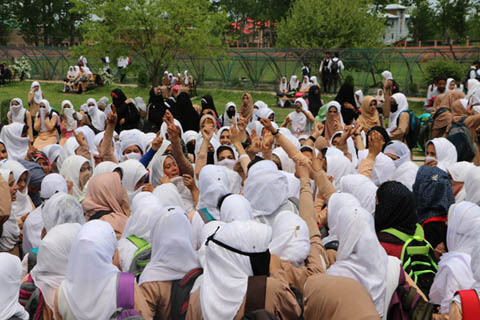 Srinagar: Students protests continued on Wednesday across Kashmir Valley especially in the rural areas. Student's protests were witnessed at Ganderbal, Kaloosa, Bandipora, Shopian, Pulwama and Bijbehara. Reports from these areas on Wednesday afternoon said that clashes were going on between students and police at number of places.
At least 12 students were injured in police action at Shopian and Pulwama, police said. They said that during the clashes many cops were also injured and they were collecting details.  Local reports from Shopian said that police and security forces used pellet guns on the students of Higher Secondary School Shopian, injuring many of the students.
Students from Shopian told Voice of Valley that police and security forces entered inside the Higher Secondary School and fired pellets on them. These students further claimed that even teachers of the school were beaten up.
However, police said that there was no truth in the allegations of students and said that they did not thrash any teacher while dispersing students. Students and police clashed at Pulwama triggering panic and shutdown in the area. Police according to reports resorted to heavy baton charge followed by firing tear-smoke shells in the area.
Meanwhile, reports from Bijbehara said that students from Degree College Bijbehara took to streets and protested against the security highhandedness against the students across Kashmir.
Kashmir is witnessing increase in the student protests in many areas even after the authorities in Srinagar closed S.P. Higher Secondary, Kothi Bagh Higher Secondary and M.P. Higher Secondary School as a precautionary measure to bring peace on the streets.
The student's clashes were triggered across Kashmir Valley after the police and security forces entered into Degree College Pulwama on April 15 injuring more than 60 students. The government has already ordered probe into the incident and has asked Divisional Commissioner Kashmir to submit the report within a week.