NC says cow vigilantism unacceptable.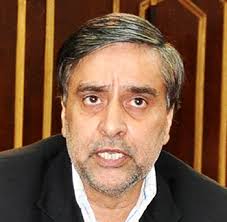 Srinagar: National Conference in a press statement on Saturday said that PDP-BJP coalition government patronizing criminals and communal and were fanning the fires of communalism in J&K State by allowing the criminals to thrash people. Senior National Conference leader who is the leader of Gujjars Mian Altaf Ahmad said that even the arrests were delayed by the government and BJP was openly supporting such criminals in Jammu region.
Mian Altaf also expressed concern over the reports that 10-year-old minor belongs to the nomads family was missing after the assault and has asked the police to ensure his safety. He said, "it is heart-rending to see how a nine year old girl has multiple fractures in this barbaric assault. What type of goons can have it in their heart to mercilessly beat up a nine year old girl to further their politics of communal vitriol and majoritarianism? The statement that these culprits have been identified but are yet to be apprehended and booked under relevant statues is unfortunate and indicates an effort to cover up this incident", Mian Altaf Ahmed further stated.