Monday mayhem dangerous for future of society'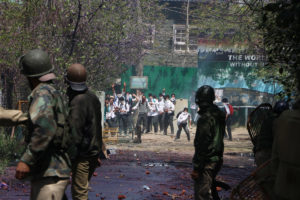 Srinagar: Private Schools Association has strongly condemned use of force by police and security forces inside the college and school premises and said that every parent and school management is under fear and shock by this attitude. In a long statement the Association said that government should probe the excessive use of force by police in entire Kashmir on students especially in Srinagar. They said that scores of students and teachers were injured in such action of police.
Meanwhile, opposition National Conference said that Mehbooba government with use of ruthless force against students has declared a war on youth. They said that BJP-PDP coalition government was only trying to implement Doval doctrine of suppression in Kashmir. Similarly, Kashmir Economic Alliance (KEA) has condemned the use of force by police and security forces on students across Kashmir.