Flood threat looms on Srinagar.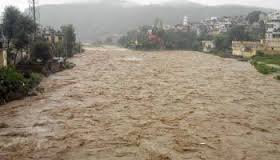 Javaid Ahmed
Srinagar: With the Friday rains and hailstorm, the flood threat to the city of Srinagar is back as the Jhelum has crossed the danger mark at Ram Munshi Bagh at Srinagar. The water level is also going up in the Dal Lake and its adjacent areas giving sleepless nights to the residents of those localities which are living on the fringe of lake.
The people of Srinagar are living on the edge as few hours of rain give those nightmares and they have to pack their utensils and to be ready to migrate to the safer places. Already the Irrigation and Flood Control Department has issued advisory to the people living near the river Jhelum embankments in Srinagar city and in the low lying areas to remain vigilant. Although the flood threat on Saturday afternoon has receded to some extent, but the people of Srinagar city are living on edge and they have appealed the government to take firm steps so that few hours of rainfall do not give them shivers of floods and they have to pack their bags to be ready to move out of their houses.
Meanwhile, the J&K Government has decided to get its own new dredgers and take the dredging the river Jhelum in their own hands as the outsourcing of this project to a private company has not given any desired results so far. Chief Engineer Irrigation and Flood Control (I&FC) Muhammad Hanief Lone recently held important meeting with a Union Ministry Water Resources in order to give shape to the efforts of the J&K Government to minimize the threat of floods especially in the Srinagar city.