Mehbooba likely to meet Modi in coming days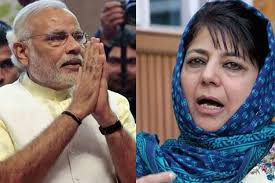 By: Javaid Ahmed
Srinagar: Chief Minister Mehbooba Mufti has opened all the back-channels with her alliance partner BJP in the backdrop of growing protests and sliding situation in Kashmir. PDP leaders confirmed to this reporter that Mehbooba Mufti would be visiting New Delhi very soon and is slated to meet Prime Minister Narindra Modi and many other Central leaders of BJP.
Mehbooba Mufti is under extreme pressure from opposition parties and from her own colleagues including her younger brother Tassaduq Mufti, who want her to do something so that there is some forward movement on the agenda of alliance so that the protests could be controlled. Mehbooba has been told by her senior party colleagues that the cycle of killings and the excessive use of force by and paramilitary forces has eroded the credibility of the party to great extent among the people. They have told her that the coalition with BJP so far has been a game of diminishing returns for them and with each passing day their credibility in the general public is touching new low.
According to the PDP insiders, Mehbooba Mufti is going to take-up all the important issues with Prime Minister and would like to get some practical help from Modi instead of only assurances. Insiders further said that initially PDP was told to wait for the result of UP elections for any forward movement on Kashmir especially regarding talks and about the transfer of power projects to the State. "We are only being told to wait and there is no response from the Centre on the burning issues of Kashmir. We are being eroded in public by such response of New Delhi and the situation can wipe out all the mainstream political  parties in Kashmir if the Centre will not start some response", a senior PDP leader told Voice of Valley.