Kargil students protest against political interference in institutions.demand basic Facilities.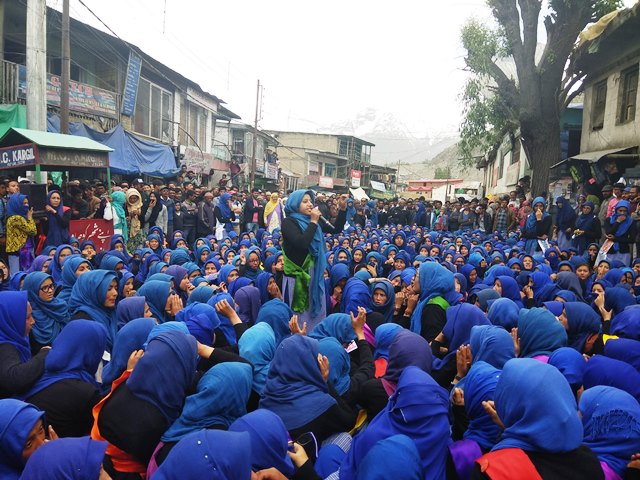 By :Sajjad Hussain
Kargil, May 25, 2017
Demanding for the basic facilities such as basic sanitation, drinking water, laboratory, Library, first aid center and replacement of principal, from the school, thousands of girl students in government girl higher secondary school Kargil today staged a massive protest.
The students marches through girl higher secondary school and culminated at Lal-chowk where the students raised slogan against the local administration for their failure of delivering basic facilities to them.
Students were saying that on one hand right from top to bottom the slogan of "Beti Bacaho Beti Padao" is being reverberated but there is no basic sanitation and other facilities available in Kargil.
They further added that despite being the only girls higher secondary school in the entire district the male principal is not even paying attention on any single demand of the students. They accused that due to having political backing the principal is drawing and disbursing officer in government higher secondary school drass and also principal in government girl's higher secondary school Kargil.
Talking in anonymity a student told media that their first demand is to appointment of a female principal replacing the existing one.
During the protest both police and civil administration tried to convince the student and appealed them to call of the demonstration .but the protesters refused by saying that if the local executive councilor LAHDC Kargil  for education will come and redress their demands then they will agree. The protest was remained continue for two hours which hampered traffic in the town.
Later EC LAHDC Kargil Advocate Amir along Additional deputy commissioner Kacho Turab shah assured the students that they will full fill all the demands by tomorrow.
The students warned the concern authorities that if their issues will not be redressed within a week then they will again take to streets and also invite other social organizations.
It's remarkable that the educational system in Kargil is vanishing due to lack of political as well as administrative will to reform. Even the two women councilors who were being nominated for women empowerment and other women related issues. But the fact of matter as that no single issue has been raised since the establishment of LAHDC in Kargil.